Monthly HPC Cafe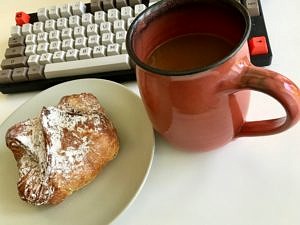 The HPC Café complements our established contact channels and training offerings. Every second Tuesday of the month this is an opportunity to get to know each other.
We always start with a short Q&A session, where you can ask and discuss anything HPC related, from running job scripts to performance issues.
Every month, we will also focus on a specific topic, either as a short talk or a discussion. These can, e.g., include advanced usage, workflow optimizations, or application-specific issues.
A separate event on the day after the HPC Café is especially dedicated to new users and HPC beginners. Each month, we offer a short introduction on using the HPC systems at RRZE, including an overview of HPC clusters, how to connect to the systems, how to use the batch system, and more.
The HPC Café is also an informal platform to give feedback or talk about general requests. We look forward to meeting you and hope for lively participation.
One more reason for coming: There will be free coffee and cake (hopefully again soon)!
Next event: Tuesday, June 14, 2022, 4 p.m.

Focus topic: The new clusters at NHR@FAU – hardware, access, application process

Duration: 1-2 hours
Location (until further notice – online session with audio only + screen sharing): https://fau.zoom.us/j/69439931483 

Contact address for inquires: hpc-support@fau.de
Next introduction for beginners: Wednesday, June 15, 2022, 4 p.m.

Location: https://fau.zoom.us/j/63416831557

Current slides: HPC in a nutshell
---
Material from past events:
Tuesday, May 10, 2022
From C++98 to C++11/14/17
Tuesday, April 12, 2022
SLURM: Basics, best practices, advanced usage
Tuesday, March 8, 2022
Tuesday, February 8, 2022
HPC Cafe für Kontaktpersonen (Liaisons)
Tuesday, January 18, 2022
Using File Systems Properly
Tuesday, December 14, 2021
Python beyond the basics: Numpy, Scipy, Matplotlib
Tuesday, November 9, 2021
Effective Editing With Vim
Tuesday, October 19, 2021
Howto on using the Cx services based on the RRZE gitlab instances
Tuesday, September 14, 2021
General Q&A, some advice on using (and not misusing) the file systems, current state of NHR system installation

Tuesday, August 10, 2021
summer break; only the usual introduction for beginners
Tuesday, July 13, 2021
Current status NHR@FAU resources and KONWIHR projects
Tuesday, June 8, 2021
Tuesday, May 11, 2021
"Continuous x" (Cx) for HPC Systems (guest talk by Jennifer Buchmüller and Terry Cojean, KIT)
Tuesday, April 13, 2021
Julia in HPC (guest talk by Valentin Churavy, MIT CSAIL Julia Lab, MIT)
Tuesday, March 9, 2021
Tuesday, February 9, 2021
Tuesday, January 12, 2021: Focus topic: AI-assisted research at FAU – Four FAU researchers give short talks about how their projects benefit from Artificial Intelligence (AI) methods and what resources they require for it.
Peter Uhrig: "HPC workflows for big data and machine learning applications"
Benedikt Lorch: "Deep learning in the HPC environment Computing demands for research in multimedia forensics"
Harald Köstler: "Deep learning for Computational Fluid Dynamics"
Thorsten Glüsenkamp: "AI research in astroparticle physics at ECAP"
Tuesday, December 8, 2020
Tuesday, November 10, 2020
Tuesday, October 13, 2020
Tuesday, August 11th 2020 and September 8th 2020
Tuesday, July 14th 2020
Tuesday, June 9th 2020
Tuesday, May 12th 2020
Tuesday, April 14th 2020
Tuesday, March 10th 2020
Tuesday, February 11th 2020
Tuesday, January 14th 2020
Tuesday, December 10th 2019
no slides but visit to RRZE's server room
Tuesday, November 12th 2019
Tuesday, October 8th 2019
Tuesday, September 10th 2019
no slides – first getting to know each other