First NHR Conference in Berlin (September 18 – 19, 2023)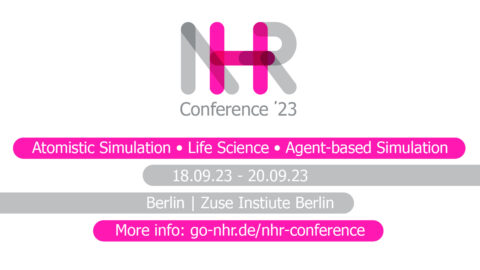 The annual NHR Conference aims at promoting scientific exchange among the HPC user community. The goal of the conference is to bring together HPC users working on selected topics, varying each year. For this year, the topics are: Atomistic Simulations, Life Sciences, and Agent-based Simulations. This is an invitation to participate in the conference with plenary, regular, and poster sessions. Please check the conference website for details.
NHR (Nationales Hochleistungsrechnen) is the federally and state-funded alliance of nine High Performance Computing (HPC) centers for university research in Germany: http://www.nhr-verein.de/en.
Important Dates
Scientific Conference: September 18, 2023 11:00 a.m. to September 19, 2023 6:00 p.m.
Abstract Submission Deadline (250 words): July 31, 2023
Registration Deadline: August 15, 2023
Keynote Speakers
Helmut Grubmüller, MPI for Multidisciplinary Sciences, Göttingen
Karissa Sanbonmatsu, Los Alamos National Laboratory
Mohammed AlQuraishi, Columbia University, New York
Rob Axtell, George Mason University College of Science
Registration
Participation fee: 120,- €
Registration until August 15, 2023
Location
Zuse Institut Berlin (ZIB), Takustraße 7, 14195 Berlin, Deutschland
---
Contact
Verein für Nationales Hochleistungsrechnen, NHR-Verein e.V., Rosenstraße 2, 10178 Berlin
E-Mail: info@nhr-verein.de
URL: www.nhr-verein.de