HPC-Campustreffen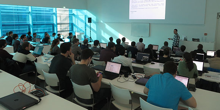 The HPC Campustreffen for Winter 2019/2020 will take place on Thursday, January 16th starting 15 o'clock (c.t.) in the seminar room 2.049 on the 2nd floor  of RRZE, Martensstr. 1, 91058 Erlangen .
The HPC Campustreffen is the assembly of all users of FAU's HPC facilities at RRZE.
The agenda will include:
new staff in the HPC group
operational and usage topics – as usual
(new hardware which arrived during the last year,  schedule for OS upgrades, EOL of existing systems, new documentation, etc.)
upcoming HPC procurements (HPC-Cluster2020 and HPC-Storage2020)
(definition of requirements, establishment for the selection committee, time schedule)
planned application of FAU/RRZE for the NHR Alliance
(focus topics, schedule, implications for HPC usage at FAU)
There will be no video recording of the HPC Campustreffen but the slides will be available afterwards in the Download area of the HPC Kundenbereich.
Parts of the presentation will be in German; but questions always can also be asked in English.
No registration is required.