NHR@FAU and RRZE to enter a new era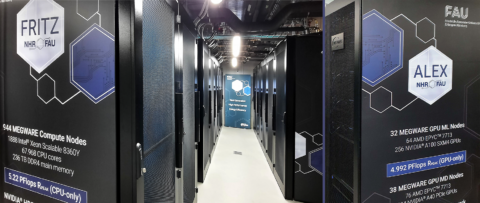 The construction of a new high-performance computing center for northern Bavaria at FAU is just around the corner. Bavarian Minister for Science and the Arts, Markus Blume, has green-lighted the planning contract for the project worth around €260 million. This sum is part of a much larger investment exceeding €1.5 billion, which will be spent on the structural modernization of FAU.
Science Minister Markus Blume: "This project of the century will catapult FAU into the premier league – in terms of computing infrastructure and investments. With the new high-performance computing center, we are creating a second Bavarian "IT beacon" alongside the Leibniz Computing Center in Garching. And we are adressing completely new dimensions of data processing. Networking is the key concept here: All universities will benefit from the new outstanding infrastructure across all disciplines – from the humanities to quantum research. This is an opportunity for the entire region and also a strong signal that the largest university in northern Bavaria is about to conquer new horizons of excellence."
The establishment of a northern Bavarian high-performance computing center is a far-reaching decision for the future. The project combines several lines of action and raises the computing infrastructure of the Franconian universities as a whole to a new level: The Erlangen National High Performance Computing Center (NHR@FAU) together with RRZE will be further developed into an IT competence and innovation center for science in the northern Bavarian region. The concomitant massive expansion of the computing infrastructure is not only a decisive leap forward for FAU but also for the other northern Bavarian universities. This includes the new University of Technology Nuremberg (UTN), whose requirements were taken into account from the very beginning in order to provide optimal starting conditions for the youngest Bavarian university.
Read the full press release (in German): https://www.stmwk.bayern.de/pressemitteilung/12663/nr-48-vom-31-05-2023.html