NHR@FAU Newsletter #9, August 2022
Apologies if you receive this message more than once.
If this newsletter is not displayed properly, click here for a web version: NHR@FAU Newsletter August 2022

Missed a talk?
The NHR@FAU YouTube channel at youtube.com/NHRFAU provides recordings of some talks, lectures, and courses, as far as this is covered by copyright restrictions.
NHR@FAU Annual Report 2021
The NHR@FAU Annual Report for 2021 is now ready for download. It summarizes all activities of our center in 2021 and provides an overview of the structure and missions of the four NHR@FAU divisions: Systems & Services, Software & Tools, Training & Support, and Research.
---
Upcoming Courses in Fall 2022
NHR@FAU is ramping up its course program. Until the end of 2022, we provide a variety of courses and tutorials for beginners and advanced HPC users (links lead to overview and/or registration pages):
Of course, all upcoming (and some past) courses are also listed on our "Tutorials and Courses" web page.
Of course, our regular "HPC Cafe" and "HPC in a Nutshell" series will continue as usual, with the exception of August, where we will have no HPC Cafe.
---
ClusterCockpit Monitoring Available for NHR@FAU Customers

ClusterCockpit is a job-specific monitoring solution which has been developed within the DFG-funded ProPE project. After an internal testing phase, it is now available for users of a part of the cluster systems at NHR@FAU.

It allows to view timeline monitoring data for running and completed cluster jobs: node load, flop rates, memory bandwidth, communication metrics, and other data is available and can be used to quickly assess the resource utilization of jobs and spot problems such as idling nodes and load imbalance.

Login is possible via IdM credentials at https://monitoring.nhr.fau.de/.
---
Woody—The Next Generation.
Action Required!
Our Tier-3 throughput cluster "Woody" is being upgraded with new hardware, a new OS, and a new batch scheduler. Heavy users of Woody will have to adapt at least part of their workflow.

The most obvious change is the switch from Torque to the SLURM batch scheduler. This requires a rewrite of batch scripts. In addition, the transition from Ubuntu 18.04 to AlmaLinux 8 calls for recompilation of most application software.

The whole transition will be complete by the end of August, when the last Woody nodes with only 8 GiB of memory will be decommissioned. For details, see the post on our website covering the transition.
---
NHR Monitoring Workshop at NHR@FAU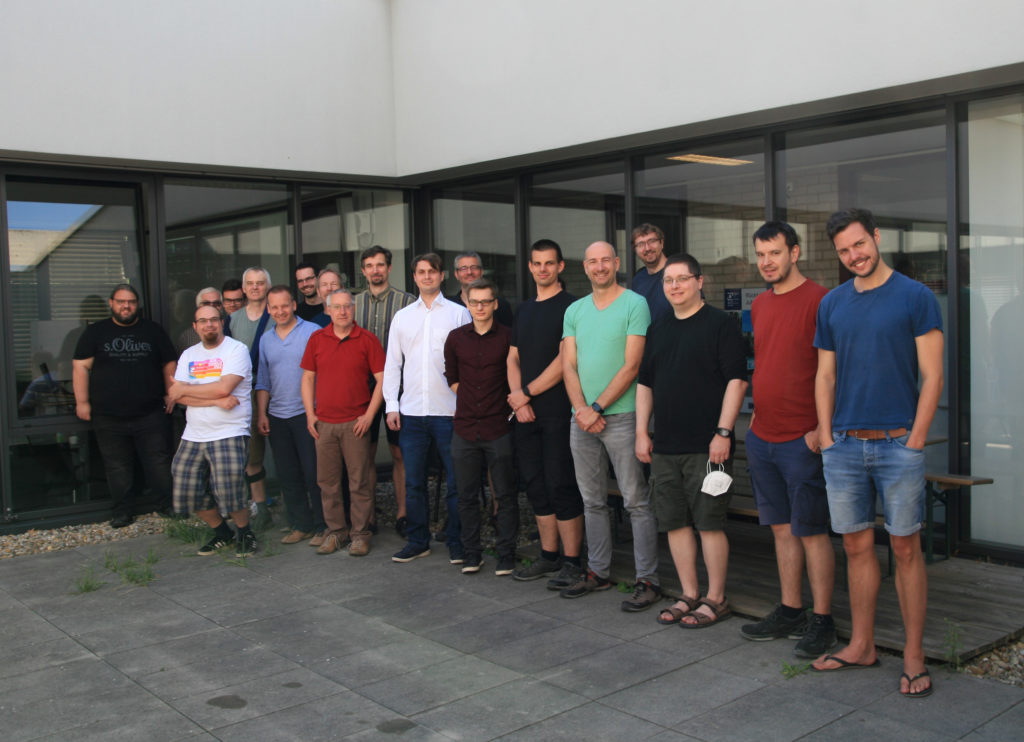 On July 18 and 19, the NHR Monitoring Workshop was organized and hosted at NHR@FAU. The workshop was a hybrid event with 43 participants, twenty of whom attended online.

The participants came from all nine NHR centers, other Tier-1 (HLRS, LRZ), Tier-2, and Tier-3 centers, various research institutes (DKRZ, DFKI, GWDG), and industry (Megware, HPE). The focus of the workshop was on software stacks for job-specific performance monitoring in HPC clusters. In a mix of interactive discussion sessions and talks, the participants engaged in intense exchange.

On Monday evening, the in-person participants got to know each other better at a social event at a Franconian beer garden. The event was sponsored by Megware.

More information is available on our website.
---
Spotlight: Prof. Dr. Heinrich Sticht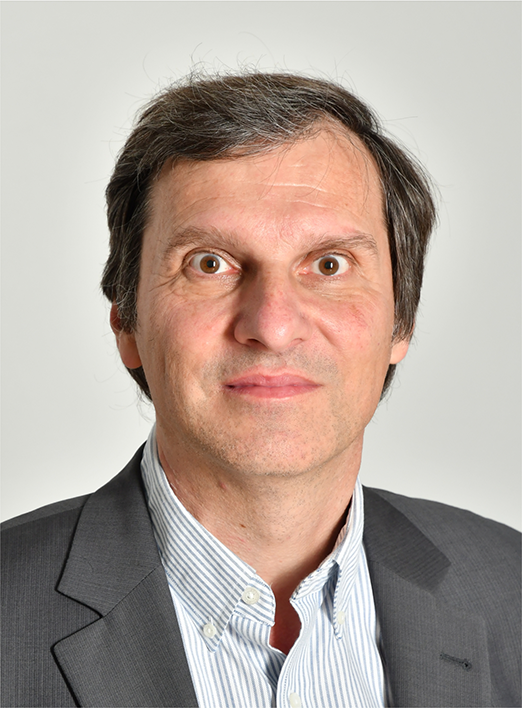 Heinrich Sticht is professor of Bioinformatics at the Medical Faculty of FAU. He studied Biochemistry at the University of Bayreuth (UBT) and started his research career at the Department of Biopolymers (UBT).

After finishing his Ph.D. in 1995, he worked as a postdoctoral fellow at Oxford University. After his stay in Oxford, he returned as a group leader to UBT, where he completed his habilitation in Biophysical Chemistry. In 2002, he joined FAU as a professor of Bioinformatics and has been contributing to NHR@FAU as a principal scientific investigator since 2021.

He has authored or coauthored about 300 peer-reviewed journal papers, reviews, or book chapters. In his research, he uses atomistic molecular dynamics simulations to study host-pathogen interactions, conformational transitions during protein aggregation, or the effect of mutations on protein structure and recognition processes.
---
Research Highlight: The MD-Bench Proxy App Toolbox for Molecular Dynamics Applications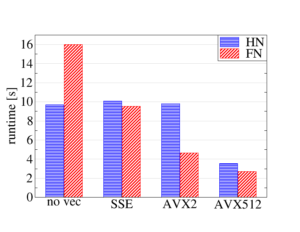 MD-Bench allows detailed investigations of performance and instruction decomposition for different algorithmic variants and SIMD widths.
The NHR@FAU liaison scientist Rafael Ravedutti develops MD-Bench, a proxy app for molecular dynamics (MD) algorithms. Proxy apps are simple versions of full application codes (such as as LAMMPS or GROMACS) but still reflect the performance behavior of the original application.

In contrast to existing proxy apps in MD (e.g., miniMD and coMD), MD-Bench is not derived from a single code but implements state-of-the art algorithms from multiple applications (currently LAMMPS and GROMACS). The MD-Bench source code is comprehensible, extensible, and suited for teaching, benchmarking, and researching MD algorithms.

An initial paper introducing MD-Bench (title "MD-Bench: A generic proxy-app toolbox for state-of-the-art molecular dynamics algorithms") was accepted for PPAM 2022, the 14th International Conference on Parallel Processing and Applied Mathematics, to be held in Gdansk, Poland, from September 11–14. A preprint is available at: https://arxiv.org/abs/2207.13094
---
Contact Information
General contact: hpc@fau.de
Issues & Support: hpc-support@fau.de
Visit us: NHR@FAU
Read our NHR newsletters
Erlangen National High Performance Computing Center
Martensstr. 1, 91058 Erlangen, Germany