NHR@FAU Newsletter #11 December 2022

• Fritz and Alex Climb up in Top500 List

• Hybrid NHR PerfLab Seminar: Michael Hartmann on Quantum Computing

• Student Cluster Competition at SC22: Team FRAUG Rocks HPCG!

• Project Kick-Off: Energy Optimization of Data Centers

• Spotlight: Prof. Dr. Ulrich Rüde

• December Highlight: A Breakthrough in Sparse Matrix Power Kernel Performance

• Christmas Crossword Puzzle

• Contact Information
Missed a talk?
The NHR@FAU YouTube channel at youtube.com/NHRFAU provides recordings of some talks, lectures, and courses, as far as this is covered by copyright restrictions.
Fritz and Alex Climb up in Top500 List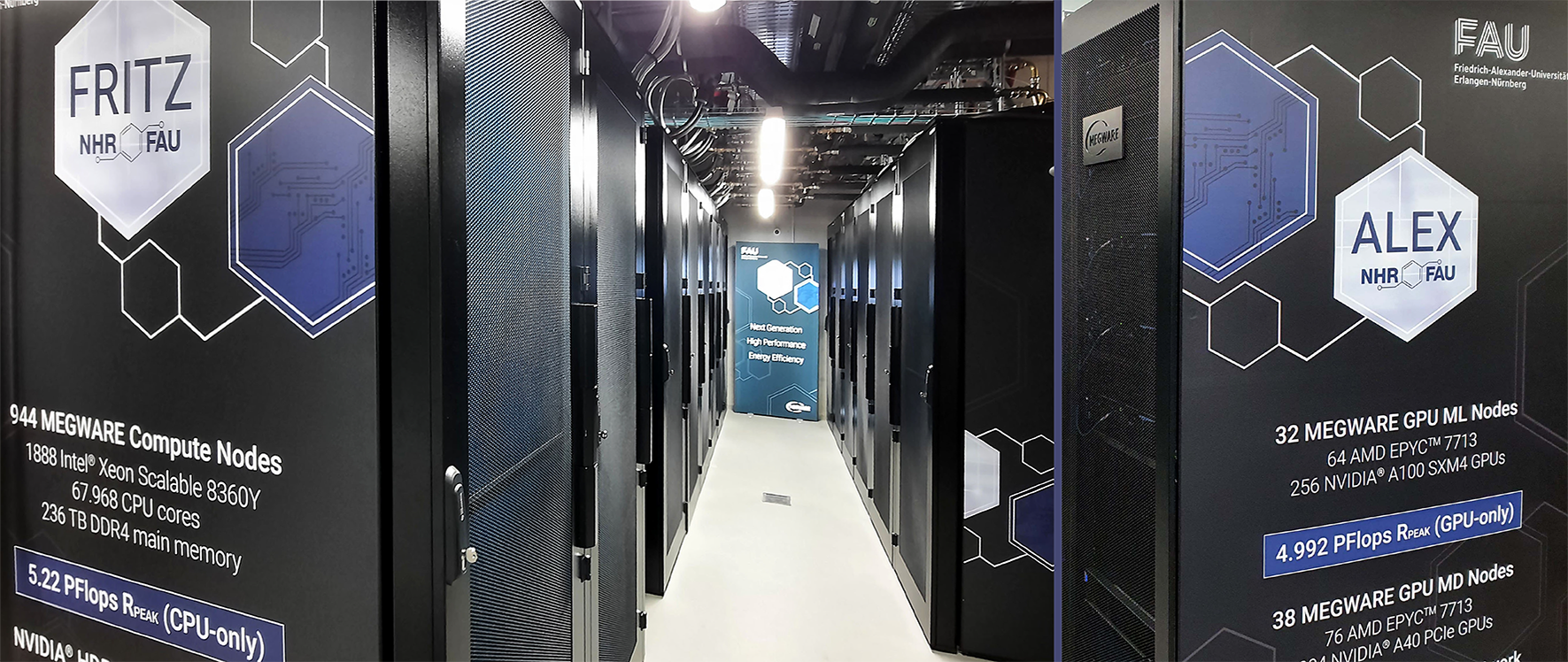 It's that time of the year again—Supercomputing 2022 is over, and the new list of the 500 fastest computers worldwide has been updated. Due to Fritz now being fully operational with all InfiniBand components and both Alex and Fritz having been upgraded with extra nodes, MEGWARE was able to determine new LINPACK values for both.

Alex is now in position #175 and Fritz is at #151. Congratulations!

For details, see our news post: NHR@FAU systems "Alex" and "Fritz" climb up in Top500 list.
---
Hybrid NHR PerfLab Seminar: Michael Hartmann on Quantum Computing
On December 20 at 4:00 p.m. (note the change from the standard slot), Prof. Michael Hartmann from the Institute of Theoretical Physics at FAU will talk about "Quantum Computing Today and Tomorrow."

Get more details from our announcement: NHR PerfLab Seminar: Quantum Computing Today and Tomorrow.

This will be a hybrid event. You are invited to come to the e-Studio at RRZE to enjoy the talk "live."
---
Student Cluster Competition at SC22: Team FRAUG Rocks HPCG!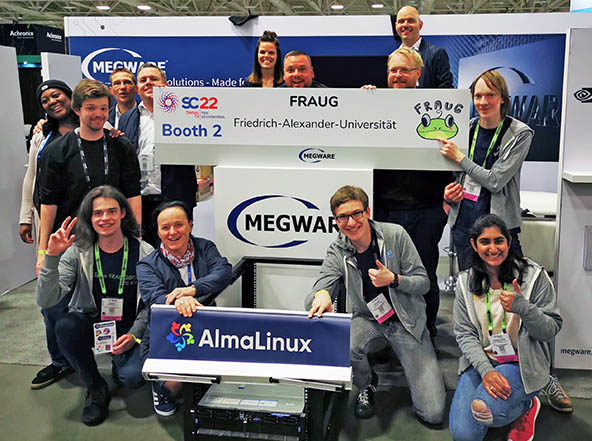 At Supercomputing (SC22), a student team jointly supervised by NHR@FAU and the Chair of Computer Architecture took part in the Student Cluster Competition, a contest that requires operating an HPC system and running a selection of high-performance applications as fast as possible under a strict power constraint.

We are happy to announce that Team FRAUG scored #1 in the HPCG category, with a performance of 1.97 Tflop/s. In addition, they scored #2 in the LINPACK category after the University of California San Diego (UCSD). Congratulations!

For more details, see our news post: FAU student team wins the SC22 Student Cluster Competition HPCG Challenge.
---
Project Kick-Off: Energy Optimization of Data Centers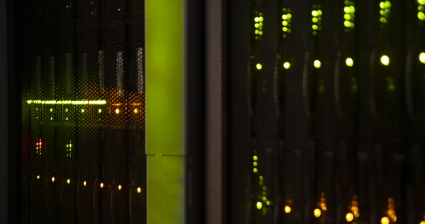 The BMBF-funded project "Open Source Solution Approaches for Monitoring and System Settings for Energy-Optimized Data Centers (EE-HPC)" was kicked off during a meeting on October 27–28 in Erlangen.

EE-HPC aims at automated optimization of the energy efficiency of HPC systems. With NHR@FAU as a consortium leader and project partners from RWTH Aachen, HLRS Stuttgart, DKRZ Hamburg, Hewlett-Packard, and Intel, this three-year project will have a profound impact on the way HPC centers run jobs with power in mind.

Find more details in our news post: BMBF project for energy optimization of data centers started.
---
Spotlight: Prof. Dr. Ulrich Rüde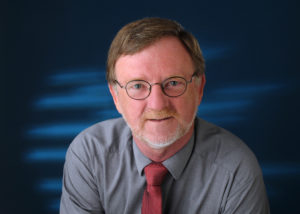 Ulrich Rüde holds the chair for System Simulation in the Department of Computer Science. His research covers the methods of Computational Science and Engineering (CSE), including applied mathematics, numerical algorithms, and high performance computing (HPC). In particular, his chair has developed advanced software frameworks that enable predictive simulations in a wide range of scientific target disciplines. The simulation tools are used in applications ranging from geodynamics to wind turbines and from blood flow to additive manufacturing. Validating such computational models is part of CSE, as well as designing and analyzing novel parallel algorithms that are employed in such simulation tasks.
Ulrich Rüde studied Mathematics and Computer Science at TU München and the Florida State University. He holds a PhD and a Habilitation degree from TU München. He was a Post Doc at University of Colorado at Boulder and has held a Professorship in Mathematics at Universität Augsburg. Since 1998 he holds the Chair for System Simulation at FAU Erlangen-Nürnberg. He was a visiting Professor at University of Colorado, National University of Singapore, and Université de Rouen-Normandie. Since 2016 he is also leading the Parallel Algorithms Team of the Centre Européen de Recherche et de Formation Avancée en Calcul Scientifique (CERFACS) in Toulouse, France. From 2005–2010 he was the editor-in-chief of the SIAM J. Scientific Computing.

At NHR@FAU, Ulrich Rüde focuses his work on the development, analysis and validation of new simulation algorithms and the development of simulation software. Such software encapsulates interdisciplinary knowledge from several disciplines. In particular, the framework waLBerla has been developed over a time span of more than 15 years. waLBerla stands for widely applicable Lattice Boltzmann from Erlangen and is used for simulating complex flows and multiphysics problems with the Lattice Boltzmann method. In the community it is widely acknowledged as one of the highest scalable and most efficient implementations of the method.
---
December Highlight: A Breakthrough in Sparse Matrix Power Kernel Performance

The sparse matrix power kernel (MPK) is a widely used operation in linear algebra. It multiplies a sparse matrix multiple times with a vector and delivers all products as output. Many solvers, preconditioners, numerical integrators, and eigenvalue algorithms use MPK. The state-of-the-art implementation of MPK employs a simple sequence of back-to-back matrix-vector multiplications and is strongly limited by the main memory bandwidth of modern CPUs.

Researchers at NHR@FAU have found a clever way to work around this bottleneck: Parts of the matrix are reused from cache in successive multiplications to reduce the data traffic from main memory. This yields a performance improvement of up to 5x on modern server CPUs, which will benefit various fields of computational science like finite element/volume solvers, computational physics, and clustering algorithms.

A paper about this new optimization, authored by a team of NHR@FAU scientists in collaboration with USI Lugano, is available as an open-access publication in the renowned IEEE Transactions on Parallel and Distributed Systems (TPDS) under DOI: 10.1109/TPDS.2022.3223512
---
Christmas Crossword Puzzle
'Tis the season, and just like last year we have a crossword puzzle as a special Christmas treat for you.

The person who first sends us the filled out puzzle will be up for good karma and, of course, eternal bragging rights. So hurl yourself into it right away!

An HTML version is also available.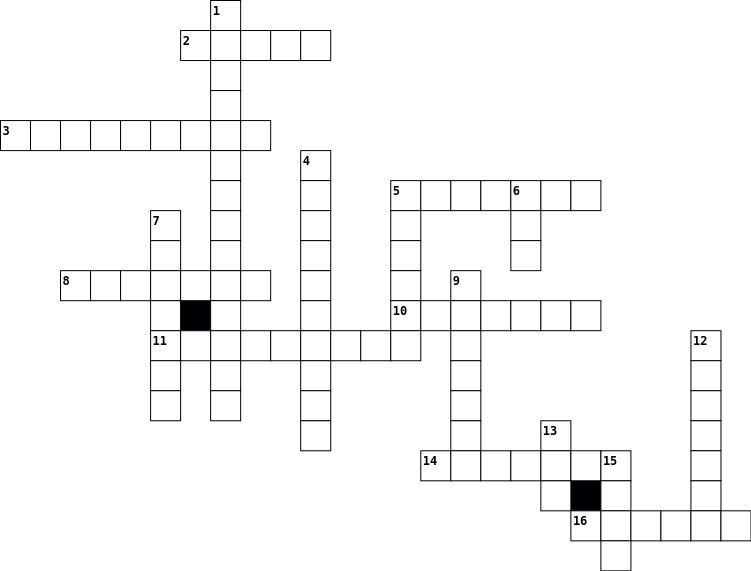 Across
2. Everyone's favorite (ha-ha) batch scheduler
3. Maximum rate of data flow
5. Time until a data transfer starts
8. ML framework from Facebook
10. CPU used in Fritz
11. Let AI figure out your proteins
14. HPC made in Germany
16. GPU architecture used in Alex
Down
1. Job-specific monitoring at NHR@FAU
4. ML framework from Google
5. "Like I Knew What I'm Doing"
6. Shared Storage for the masses
7. High-performance molecular dynamics
9. Carcinogenic, flammable, toxic, and in our logo
12. Python in your browser
13. Linux command to make archives
15. A famous mathematician from Erlangen—and a cluster
---
Contact Information
General contact: hpc@fau.de
Issues & Support: hpc-support@fau.de
Visit us: NHR@FAU
Read our NHR newsletters
Erlangen National High Performance Computing Center
Martensstr. 1, 91058 Erlangen, Germany