NHR@FAU Newsletter #10 October 2022

Missed a talk?
The NHR@FAU YouTube channel at youtube.com/NHRFAU provides recordings of some talks, lectures, and courses, as far as this is covered by copyright restrictions.
---
Next HPC Café on October 11: Modern Fortran – an oxymoron or a sustainable language?
On October 11, the next NHR@FAU HPC Café takes place in hybrid format: There will be coffee and cake from 4:00 p.m. and an invited talk starting at 4:30 p.m.

Focus topic: Modern Fortran – an oxymoron or a sustainable language? (guest talk by Dr. Reinhold Bader, LRZ Garching)

For 65 years, the Fortran programming language has been in use by scientists for writing portable and hardware-efficient code when implementing simulations and the underlying algorithms. The talk provides an overview of new developments in Fortran standardization and tries to answer the question posed in the title. We specifically focus on program design, parallelism, and interoperability.

Location (hybrid event): RRZE seminar room 2.049 (with free coffee and cake) and Zoom https://fau.zoom.us/j/69439931483 (BYO)
---
Upcoming talks in the NHR PerfLab Seminar
Our NHR PerfLab Seminar has some interesting speakers upcoming:

On October 18, Rolf Rabenseifner (of MPI fame) and Tobias Haas from HLRS Stuttgart will give an overview on the new features that came with version 4.0 of the Message Passing Interface (MPI) standard.

On November 8, Martin Kronbichler from the University of Augsburg will talk about high-order finite-element discretizations of PDEs.

On November 29, Simon McIntosh-Smith from the University of Bristol (UK) will present new developments in microarchitectural simulation.

All past and upcoming seminar talks can be found at https://hpc.fau.de/research/nhr-perflab-seminar-series/. If you want to get notified of upcoming events within the NHR Alliance, subscribe to the nhr-announcements mailing list.
---
Upcoming Course: Fundamentals of Accelerated Computing with CUDA C,C++
In collaboration with LRZ Garching and the NVIDIA Deep Learning Institute (DLI), on November 28 we offer a retake of the popular full-day C/C++ CUDA course. Upon completion, participants will be able to accelerate and optimize existing C/C++ CPU-only applications using the most essential CUDA tools and techniques.

Find the details and a registration link at: https://app1.edoobox.com/en/LRZ/Online%20Courses/Online%20Course.ed.0b63d95f5fc8_7040892187
---
Best Paper Award at PPAM 2022 for MD-Bench
The paper "MD-Bench: A generic proxy-app toolbox for state-of-the-art molecular dynamics algorithms" by Rafael Ravedutti Lucio Machado, Jan Eitzinger, Harald Köstler, and Gerhard Wellein just received the best paper award at PPAM 2022, the 14th International Conference on Parallel Processing and Applied Mathematics, in Gdansk, Poland.

As reported in the Research Highlight of the August 2022 newsletter, Rafael develops MD-Bench, a proxy-app for short-range molecular dynamics (MD) algorithms. Rafael is a PhD Student and a liaison scientist at NHR@FAU and works on performance engineering for classical MD applications.

A preprint of the paper is available at arXiv:2207.13094.
---
Student Cluster Competition: FAU Team at SC22 supported by NHR@FAU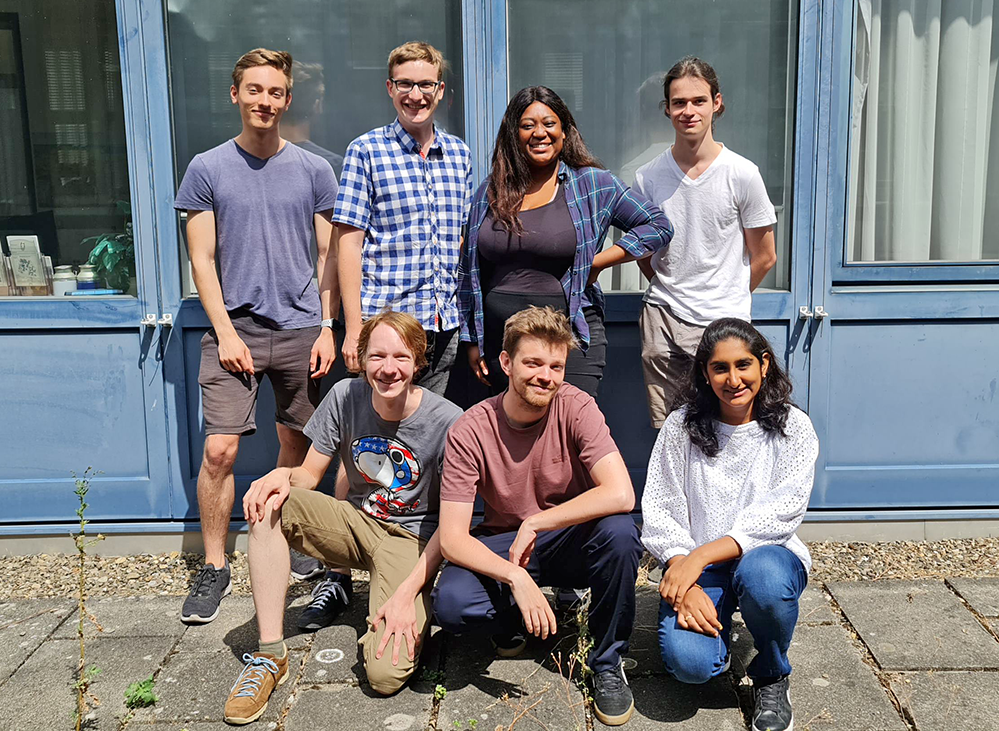 ---
New OSACA version supports AMD Zen3 and Intel Ice Lake X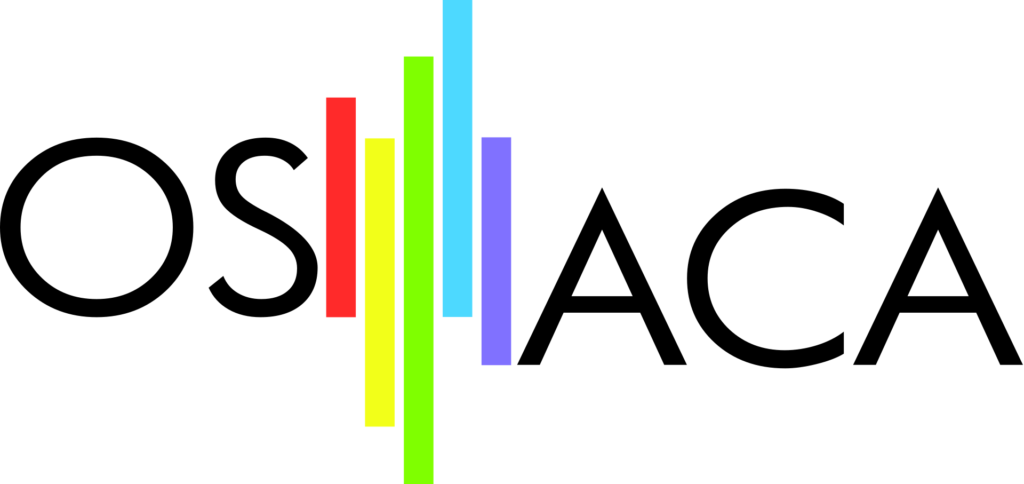 The Open-Source Architecture Code Analyzer (OSACA) tool is now available in version 0.4.11. The great news is that it now supports the latest CPU architecture from AMD, the Zen 3 (a.k.a. Milan) and the Server version of Intel's Ice Lake CPU architecture (Ice Lake X).

OSACA is developed by Jan Laukemann at NHR@FAU. It is able to take a snippet of assembly code and predict, without actually running the code, its critical path, optimistic throughput limit, and the length of loop-carried dependencies. It is thus a powerful tool in low-level performance analysis. OSACA is also the default in-core analysis tool for Compiler Explorer (godbolt.org), which is used roughly three million times every week.

OSACA is available at https://github.com/RRZE-HPC/OSACA
---
"Node-Level Performance Engineering" Tutorial Accepted for SC22 Conference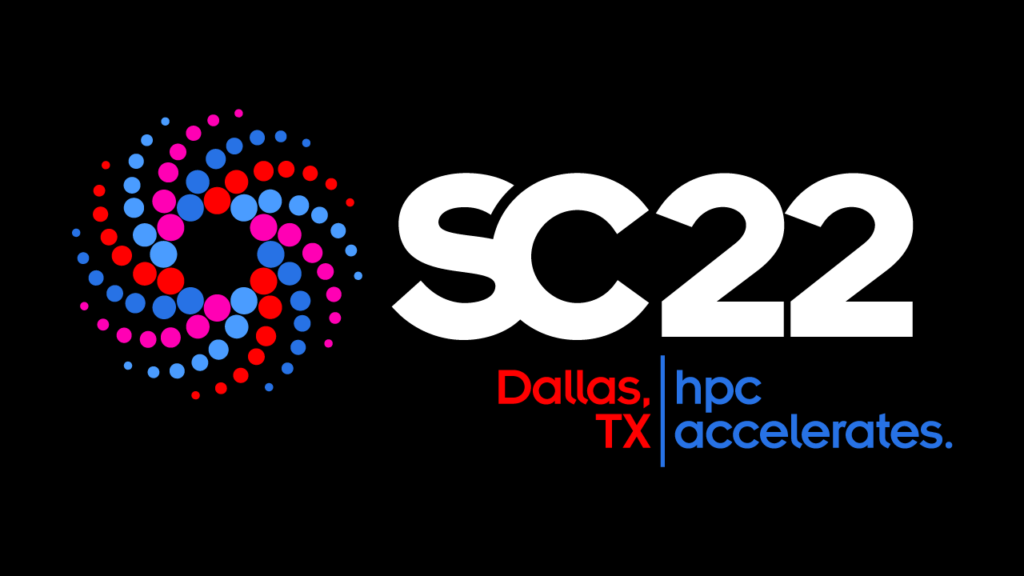 Our popular "Node-Level Performance Engineering" full-day tutorial has been accepted again (now the eleventh time in a row!) for presentation at SC22, the International Conference for High Performance Computing, Networking, Storage and Analysis. We teach the basics of node-level computer architecture, analytic performance modeling (via the Roofline model), and model-guided optimization.

Find the details in the official SC22 agenda. Early-bird registration for the conference is open till October 15.
---
First call for large-scale projects at NHR@FAU completed
The first round of large-scale compute time allocations has been granted by NHR@FAU. The research projects in the fields of linguistics, physics, biophysics, and climatology came from FAU and other Bavarian universities, reflecting a broad spectrum of applications. A total of 93 million core hours and 470,000 GPU hours could be awarded without cuts.
Currently, the second call for large-scale projects is underway. See our page on the application process for details.
---
Spotlight: Prof. Dr. Rainer Böckmann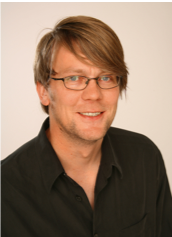 Rainer Böckmann holds the professorship for Computational Biology and is student counselor as well as a member of the examination board for Integrated Life Sciences.

The Böckmann Lab focuses on the structure, dynamics, and function of biological membrane mimics, including lipid-protein interactions, membrane (nano-)domain formation, and (membrane) protein oligomerization studied both in atomistic and coarse-grained molecular dynamics simulations (Theoretical & Computational Membrane Biophysics).

Rainer Böckmann studied Physics with a focus on nuclear physics at the University of Cologne, the Niels-Bohr Institute in Copenhagen and the Research Center Jülich. Following a PhD thesis in theoretical biophysics at the Max-Planck Institute for Biophysical Chemistry in Göttingen, he was working as a postdoc in Göttingen and at the University of Zurich in Switzerland. After working as a group leader at the Center for Bioinformatics at Saarland University, he joined FAU's Department of Biology in 2009.

Prof. Böckmann was chairman of the Molecular Biophysics Section of the German Biophysical Society (2011—2012) and spokesperson of the Research Training Group 1962, Dynamic Interactions at Biological Membranes: From Single Molecules to Tissue (2014—2020). He organized the international Annual Meeting of the German Biophysical Society in Erlangen (2016), is editor of the European Biophysics Journal, and since 2020 member of the DFG Review Board, subject Biophysics in the panel Basic Research in Biology and Medicine.

At NHR@FAU, he is a principal scientific investigator and his group works (i) on the role of lipids in membrane protein structure, dynamics, function, and protein localization, (ii) on the effect of membrane-embedded or absorbed proteins on the membrane shape, and (iii) aims to characterize the composition, structure and dynamics of nano- and micrometer-sized biomembrane domains and its coupling to biomembrane function. A methodological focus is on the force field development for protein-lipid systems, structure-based free energy predictions for the stability of proteins and protein binding affinities with a focus on membrane-associated proteins.
---
Research Highlight: mRNA lipid nanoparticle phase transition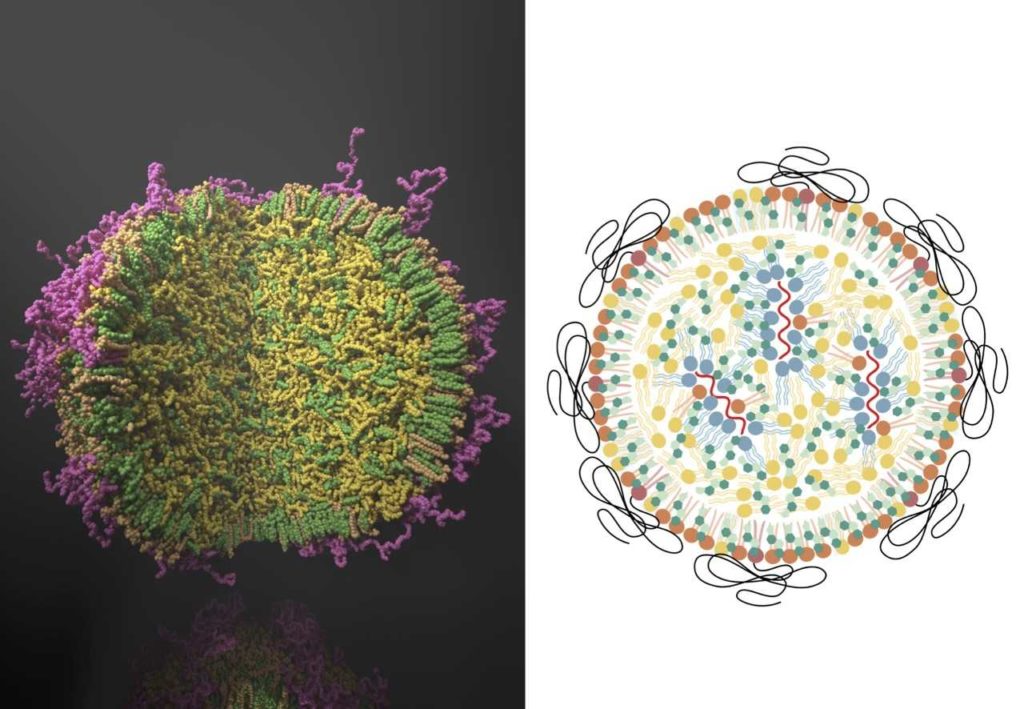 mRNA-based vaccines have a tremendous therapeutical potential in the prevention of a severe SARS- CoV-2 infection. Lipid nanoparticles (LNPs) act as carrier system for the mRNA, protecting the nucleotides against premature degradation and allowing for efficient release into the target cells. Despite the decisive role of LNPs for the successful delivery of mRNA and thus for the action of vaccines, only little is known about the molecular architecture of LNPs used within SARS-CoV-2 vaccines.

Our molecular dynamics simulations of both lipid model systems and whole LNPs with the lipid composition used in the BioNTech & Pfizer vaccine offer a unique insight on the atomistic scale into the structure of lipid nanoparticles and suggest a mechanism with an aminolipid acting as a pH-sensitive switch for the delivery of mRNA-based drugs.

Read the whole story by NHR@FAU's liaison scientist Marius Trollmann and his supervisor Rainer Böckmann at https://doi.org/10.1016/j.bpj.2022.08.037.
---
Contact Information
General contact: hpc@fau.de
Issues & Support: hpc-support@fau.de
Visit us: NHR@FAU
Read our NHR newsletters
Erlangen National High Performance Computing Center
Martensstr. 1, 91058 Erlangen, Germany